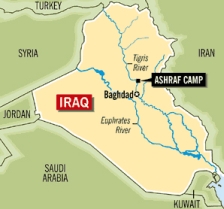 Camp Ashraf is home to some 3,400 members and sympathizers of Iran's main opposition group, the People's Mojahedin Organization of Iran (PMOI/MEK) and their families. Camp Ashraf is in Iraq's Diyala Province, 60 miles northeast of the Iraqi capital, Baghdad, and about 44 miles from Iran's Western border.
When in 1986 the MEK resettled its leadership and rank and file in Camp Ashraf, it was a 14 square mile barren land with only a handful of deserted buildings and no facilities, paved roads, or running water. Today, however, Ashraf is a made up of a complex of roads and buildings with many educational, social and sports facilities.  For more information about Camp Ashraf, check www.CampAshraf.org
Camp Ashraf and the 2003 Iraq War
Long before the 2003 war began, the MEK publicly declared its neutrality and played no part in the ensuing conflict. In the early part of the 2003 US invasion, as a result of quid pro quo between Washington and Tehran, PMOI bases were repeatedly bombed by Coalition forces, inflicting  dozens of casualties and enormous structural damage.
In April 2003, the US forces signed a cease-fire agreement of "mutual understanding and coordination" with the MEK. Finally in May 2003, as a result of negotiations between the MEK and the US forces led by General Ray Odierno, the MEK agreed to a "voluntary consolidation" and disarming of its forces in exchange for US protection of Camp Ashraf and its residents. 
 Camp Ashraf Residents's Protected Persons Status under the 4th Geneva Convention
After an extensive 16-months investigation of every member of the MEK in Camp Ashraf by seven different US government agencies, including the Department of State, MEK members were found clear of any violation of US law. In addition, the US Government declared them "non-combatant" during the 2003 war.
In July 2004, the US granted residents of Ashraf "protected persons" status under the Fourth Geneva Convention. As such, the US forces took up the protection of Camp Ashraf based on a mutual agreement with the MEK. The US protection of Ashraf continued until January 2009 when the camp's security was transferred to Iraq.
Iraqi Army Raids Camp Ashraf, Commits Massacre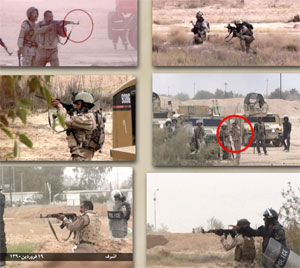 The April attack, described by the Chairman John Kerry of the Senate Foreign Relations Committee as "massacre", left 36 dead and hundreds wounded. In both attacks US forces refrained from intervening to stop the bloodshed.  
Since transfer of Camp Ashraf's security from the US military forces to Iraqi government, the camp has been under a barbaric siege where delivery of food and basic staples, has been hampered and visits by family members, human rights organizations, residents' lawyers, and independent journalists have been disallowed.
US House Urges President Obama to Protect Camp Ashraf
In 2010, a bi-partisan majority in the US House of Representatives called on President Obama to "take all necessary and appropriate steps to support the commitments of the United States under international law and treaty obligations to ensure the physical security and protection of Camp Ashraf residents against inhumane treatment and involuntary deportation by Iraqi security forces."  
Amendment for Camp Ashraf is Unanimously Adopted in the House Committee
On July 21, 2011, an amendment to the Foreign Relations Authorization Act, FY 2012, was introduced by Congressman Ted Poe (R-TX). The amendment concerning the humanitarian situation in Ashraf was unanimously adopted by the US House Foreign Affairs Committee. 
The amendment makes it "The policy of the United States to urge the Government of Iraq to uphold its commitments to the United States to ensure the continued well-being of those living in Camp Ashraf and prevent their involuntary return to Iran in accordance with the United States Embassy Statement on Transfer of Security Responsibility for Camp Ashraf of December 28, 2008; take all necessary and appropriate steps in accordance with international agreements to support the commitments of the United States to ensure the physical security and protection of Camp Ashraf residents; and take all necessary and appropriate steps to prevent the forcible relocation of Camp Ashraf residents inside Iraq and facilitate the robust presence of the United Nations Assistance Mission in Iraq in Camp Ashraf."  
House Bi-partisan Delegation is Barred from Visiting Camp Ashraf
On July 7, 2011, Congressman Dana Rohrabacher, Chairman of Subcommittee on Oversight and Investigations of the House Foreign Affairs Committee, held a landmark hearing, entitled, "Massacre at Camp Ashraf: Implications for U.S. Policy," where a survivor of the April 8, 2011 deadly assault by Iraqi forces on Ashraf testified. The California Republican headed a bi-partisan delegation to Iraq in June to visit Camp Ashraf, but was denied permission by the Iraqi Prime Minister Nouri al-Maliki.  
Camp Ashraf: Key Events and Dates  
| | |
| --- | --- |
| June 1986 | MEK's leadership and rank and file settle in Camp Ashraf in Iraq after French government, submitting to Tehran's demand, forced them out of France.  |
| February 2003 | MEK publicly declares its neutrality in the 2003 war and plays no part in it. In the early part of the 2003 US invasion, as a result of quid pro quo between Washington and Tehran, however, MEK bases are bombed by Coalition forces, with dozens of casualties.  |
| May 2003 | MEK signs an agreement with the US forces led by General Ray Odierno, to "voluntary consolidate" and disarm in exchange for US protection of Camp Ashraf and its residents.  |
| July 21, 2004 | After a 16-month investigation by different US agencies which clears every resident of the Camp Ashrafof any violations of American law, US recognizes the status of Iranian dissidents residing in Ashraf as "Protected Persons" under the 4th Geneva Convention.   |
| Feb. 2009 | The U.S. forces complete the hand over of Ashraf security to Iraqi security forces.   |
| July 28, 2009 | Iraqi Prime Minster Nouri al-Maliki orders the 2,200 Iraqi security forces of various police and military branches to storm Camp Ashraf.   |
| November 26, 2009 | A National Court of Spain rules that the residents of Camp Ashraf are under protection of the Geneva Conventions and declares its competence to investigate if crimes against humanity were committed during Iraqi forces' deadly July attack on Ashraf.  |
| November 25, 2010 | The European Parliament adopts a Written Declaration on Camp Ashraf, calling for US and UN to provide urgent protection for the residents.   |
| December 10, 2009 | Agence France Presse quotes the Iraqi Prime Minister Nouri al-Maliki as saying that his government will move the Ashraf residents to the infamous Neqrat as-Salman desolate prison camp in the deserts of southernIraq, near the Saudi border. Maliki says he intends to "uproot" the PMOI in order to nurture its relationship withTehran.  |
| Jan 7, 2011 | Following Iran's Foreign Minister Visit to Baghdad, the Iraqi forces ordered by Nuri al-Maliki launch an assault on Camp Ashraf in which 175 residents, including 83 women, are been injured.   |
| April 8, 2011 | Iraqi army commits massacre in Camp Ashraf, using tanks, artillery, and sharp shooters. 36 residents die, hundred more are wounded. |